For the busy folk out there with kids, packed schedules, job commitments, etc., it can be difficult to find the time to spring clean—especially when it doesn't feel like a necessity. However, spring cleaning is more than just an annoying yearly chore; it is beneficial for your health, well being, and your mindset. Healthline reports, "Cleaning and organizing the space you spend most of your time in can keep your immune system strong, boost your mood, and offer a task that promotes focus and reflection during a trying time."
Plan a multi-day cleaning extravaganza
Spring cleaning can feel like an overwhelming task for just one day, so it's best to plan out multiple days to get the job done. This might mean a few consecutive days, or maybe you take a couple days over the next few weeks to get your hands dirty. Find a schedule that works well for your situation and ensures you will get the job done.
Make a list
Keep a list on your phone or in a trusted notebook of all the things you would like to accomplish during your spring cleaning. This list does not have to be limited to cleaning! Spring cleaning is also a great time to get organized with your systems: your calendar, your to-do lists, your paper inbox, your computer files, etc.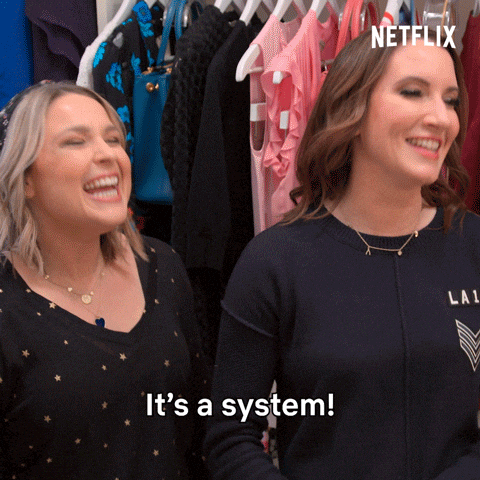 Take care of the neglected spaces
Even the cleanest homes have spaces that are often neglected. Take some time during your spring cleaning to show some love to the spaces in our home that we don't often have time to clean, including:
Wipe down your laundry machines
Vacuum and dust under the bed
Clean out your trash cans
Clean out the inside of your cabinets
Declutter, toss, and donate
Decluttering and organizing your space can not only provide peace of mind and more efficency in your days, it can also be beneficial for your mental and physical health. According to Everyday Health, "The perks that come with decluttering the physical space around you aren't surprising given that exposure to cluttered, disorganized environments can compromise your attention, concentration, and focus—and even drain your cognitive resources, according to previous research on the results from functional magnetic resonance imagine (fMRI) scans."
The Home Edit recommends the following steps for decluttering your space:
Take everything out of the space you're organizing (and they mean everything).
Create groupings by placing like items together so you can see what you're dealing with.
Pare down your belongings, getting rid of anything you no longer use or just don't like.
Clear out your paper inbox
Especially when it comes to your health insurance and medical bills, you probably get a lot of paper in the form of statements, EOBs, notifications, and more. While you are spring cleaning, take some time to go paperless or figure out a reliable system that you can use to maintain your paper clutter and keep it from taking over your kitchen counter (don't worry, we've all been there).
https://www.arcbenefitsolutions.com/wp-content/uploads/2023/03/shutterstock_1038166888.jpg
800
1200
ARC Benefit Solutions
/wp-content/uploads/2017/10/ARC-Website_Design.png
ARC Benefit Solutions
2023-03-17 15:51:43
2023-03-17 15:53:56
It's Spring Cleaning Time! Here are Five Tips to Make the Most of Your Spring Cleaning This Year